Some of our friends may recall that I served as a scoutmaster to Troop 349 sponsored by the Orinda California Ward of the Church. Initially I was less than enthusiastic about being asked to be the scoutmaster. I even told the existing scoutmaster at a barbecue shortly before I was asked to be the scoutmaster there was one calling in the Church that I would never accept. This calling was scoutmaster. Two weeks later, Bishop Jex called me to be the scoutmaster. I flatly told him "Absolutely not."
He told me to think and pray about it. A week later I accepted the call. This decision turned out to be one of the greatest experiences in my life. I'm still in contact with many of the young men in the troop who are now doctors, engineers, entrepreneurs, PhDs, and MBAs – all successful in their lives on many levels.
To my surprise while stopping for a bite to eat on a recent trip, there was a young scout sitting at the table next to us. I had no idea that scouting was a thing in the Philippines and that the Boy Scouts would be found in this part of the world. I had a chance to learn more about scouting in the Philippines fromm this rather accomplished young man.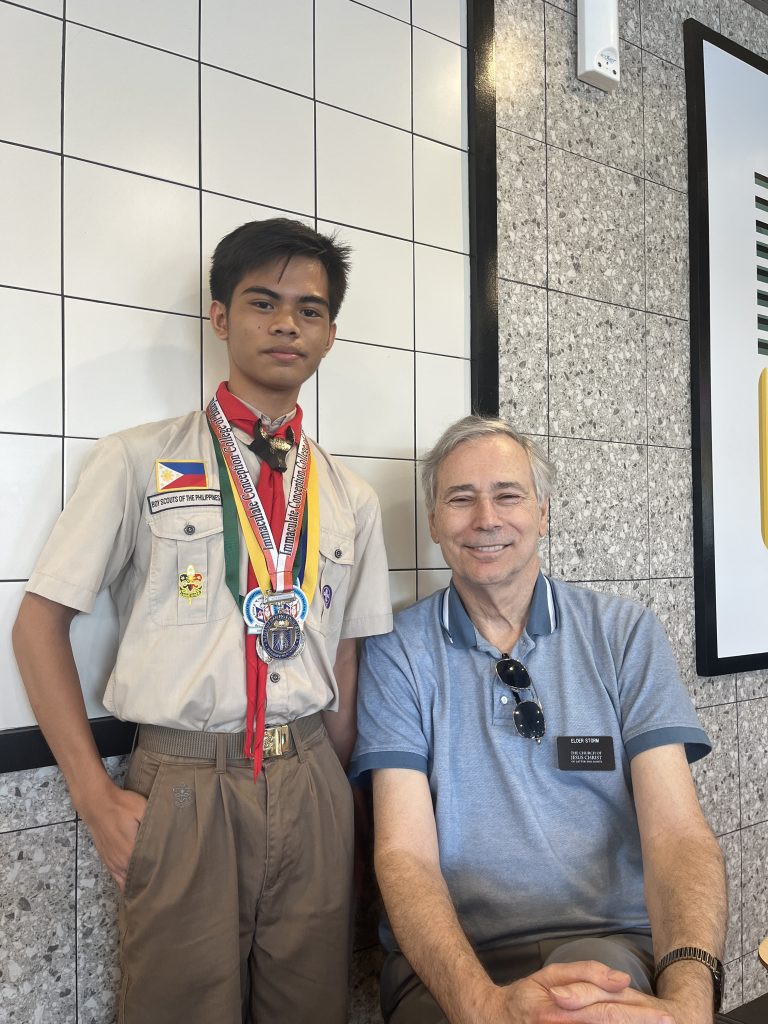 Missionary Name Tags
I mentioned name tags in a prior post. It has been interesting to get used to always wearing our missionary name tags. 
When you have a missionary name tag on identifying you as a member of the Church of Jesus Christ of Latter-day Saint, it forces you to think twice about not smiling, never acting bad, and always being on your best behavior. I've been in several situations that I've had to stop and think what I am saying and doing. For example, the other day we were shopping and I picked out some organic milk which is somewhat expensive ~$9.00 a half gallon. Interestingly, it's common practice here in the Philippines to deeply discount perishable food items before the food reaches an expiration date. 
I picked up two liters (~half a gallon) of organic milk because they were a week of their expiration date paying less than half price. We usually purchase milk that is long-life, ultra-heated fresh milk that can be kept on a shelf unrefrigerated for up to six months such as the milk in the carton pictured below.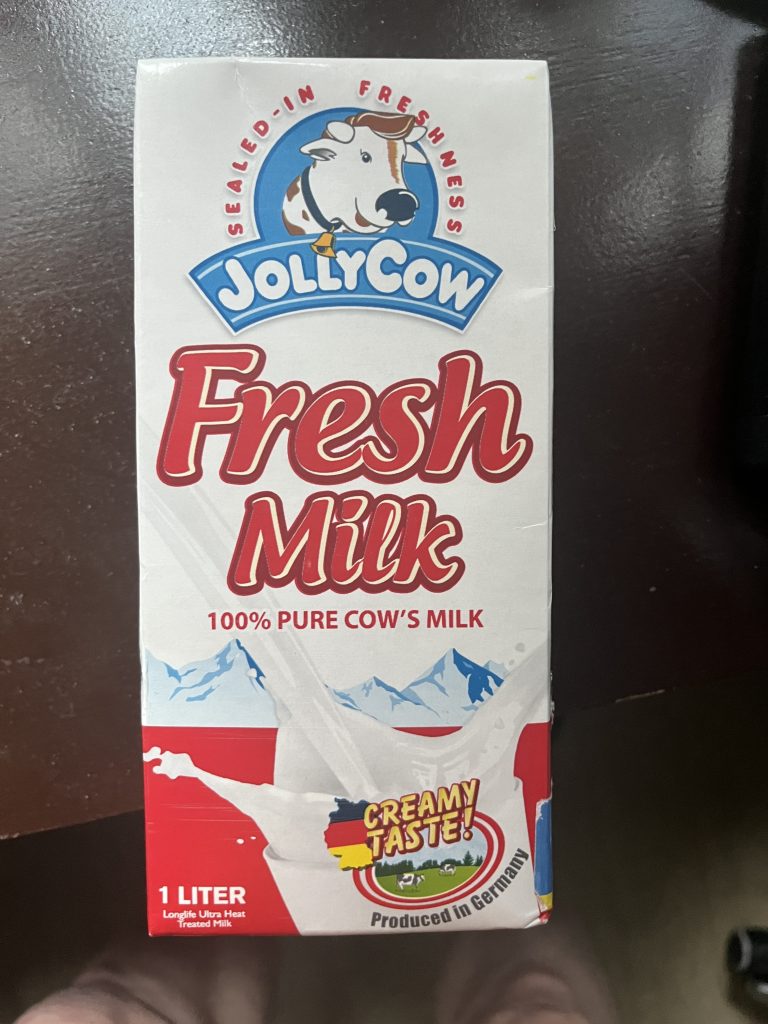 We purchase this type of milk vs. fresh milk because our refrigerator is about 1/3  the size of a normal frig in the US. In any case, after we arrived home and as I was putting away our groceries, I happened to glance at the receipt and noted that I was charged full price for the organic milk – not a big deal but $18 for a gallon of milk was more than I would normally spend. 
On our way into the office the next day, I stopped at the S&R (a local Costco clone) and brought my receipt for the organic milk. To make a long story short, it took nearly an hour to get this issue resolved. If I had known it would have taken more than a few minutes, I would have never attempted to remedy the situation and just forgot about it and then I would have been more aware at the check-out counter the next time around.
The reason I mention this episode is there were several times during multiple conversations with employees who were doing their best to get the issue resolved but seemed to be going in circles because they had been faced with this situation before. I was getting frustrated as 10 minutes turned into 20, then 30 and eventually nearly an hour. I was slowly becoming visibly irritated. However, my name tag kept me from being rude and condescending and to continue to smile as best I could – which was a good thing. Eventually, the issue was resolved and I politically thanked the clerks that had helped me. You might say, "I was saved from a potential embarrassing and confrontation by my name tag."
People Notice 
Our name tags have been remarkable at creating situations where we get to meet all types of interesting people and often complete strangers that approach us out of the blue on the street and talk to us because they see our name tags and know a member of the Church, are a member, or are simply curious of who these funny looking Americans are in a white shirt and tie when everyone else is half clothed. 
Since I've been wearing my name tag here, I realize that it's too bad that I had to wear a name tag to remind me that I should always be more like Christ in all situations….I've not always been or acted this way. 
Never a Stranger
Our name tag also gives us a leg up when we walk into a new ward for the first time (we have been attending a different ward each week) for Sunday services. Upon seeing the name tag, everyone will greet us as Elder and Sister Storm, enthusiastically welcome us to their ward, and treat with respect for two reasons – one, we are missionaries and two, the Filipinos respect older people and we are really old. 
In Tagalog, there is a greeting used when talking to someone older than you….you are always address with a "po" after a phrase. For example, if you go into a store and ask where something is located. The Filipino helping you will say to you, "The item you want is two shelves down, po." Or in Tagalog, "Ang item na gusto mo ay dalawang istante sa ibaba, po." Regardless of who is addressing you, if you are older, you get respect here in the Philippines by being addressed with a "po".
More Experiences
A number of blog posts ago, I mentioned Marcia's experience after her appointment with her cardiologist when the medical assistant shared that she was taking the missionary lessons and was considering baptism. We had another name tag experience a few weeks ago. We made a four-hour trip south to San Pablo City an area in the providence of Laguna to interview the outgoing mission leaders.
Because of our late afternoon arrival, we stayed at an Airbnb and the host for the condo we rented was named Maria. While talking to Maria, she noticed our name tags and volunteered that she was a member of the Church but had not attended for years.
After we left the next morning, I texted Maria thanking her for staying at the Airbnb for five hours before we arrived to check us in. When I made the reservation, I noted in the comment's section that we would arrive at 1 pm but traffic caused us to arrive late. This young woman waited from twelve noon to 6:00 pm for us to arrive so she could welcome us and check us in.
In the text, I thanked her for her hospitality and asked her if she would mind if I could have the Relief Society President contact her. I told her that she would really like the Relief Society. She texted back and said that would be okay. This is not an isolated experience. I could share many more.
Bottom line: We can't hide, even if we tried – all because of our name tags.
Seeing Some of the West Coast of Southern Luzon
Last month when returning from an oral history interview in San Pablo, we had a chance to drive most of the west coast of Luzon south of Manila. Luzon is the largest island in the Philippines Archipelago. This coastline most closely resembles driving west coast of Southern California north on Hwy 1 to Northern California except the geography and vegetation is tropical with numerous small villages along the drive.
It was a long seven hour drive so we didn't stop a lot because we needed to be back in Quezon City to prep for our next day's schedule. Here is one stop along the way from San Pablo to Quezon City. It was a little overcast but you get the idea.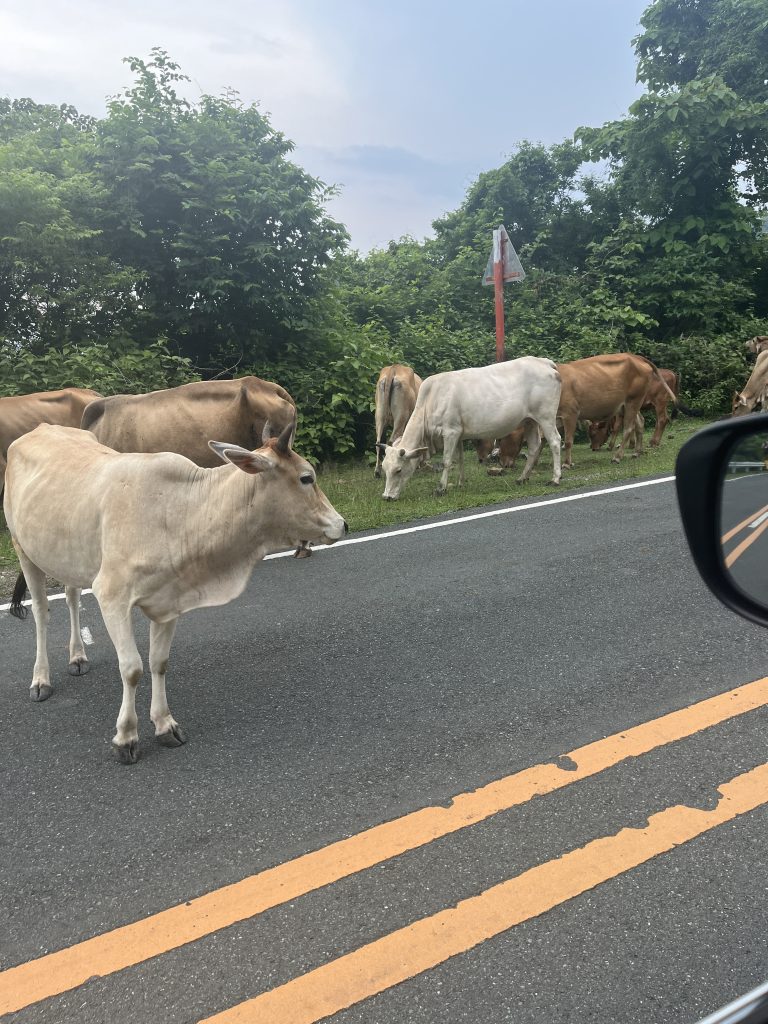 Asian Cows that are typical in the Philippines are a little different than those in the US
While driving up the west coast of southern Luzon, we came around a corner in a rather hilly area and nearly plowed into a herd of cows that were out for an afternoon stroll. We stopped and waited for them to decide to move on. Instances like this are relatively common as are being behind a slow truck, tricycles (motorcycles with a side car), and an occasional Jeepney all going about 10-15 miles per kilometer and since you are a winding narrow road, you can't pass. One thing that we've learned driving in the Philippines is patience. You just have to take a deep breath and go with the flow.
Things we continue to learn about the Philippines
Bidet.
As a general rule, toilet paper is not used by local Filipinos. Nearly every bathroom in the Philippines has a bidet. For those of you that aren't familiar with the term "bidet", it's described as a specialized bathroom fixture for washing your undercarriage. It's the primary way most people around the world clean themselves up after using the toilet.  
Initially, I thought this was strange, but after I started using the bidet, amazingly I find it a better way than what we Americans do.
Eating with fork and spoon.
The custom in the Philippines is to eat food served on a plate with a fork and large spoon. Knives are rarely used for non-formal events. The spoon is used by the right hand, while the fork is in the left, as both the fork and spoon are used to cut or tear the food apart. The fork is used to load (put) various food items on the spoon. Once adequately full, the spoon is lifted to the mouth to eat.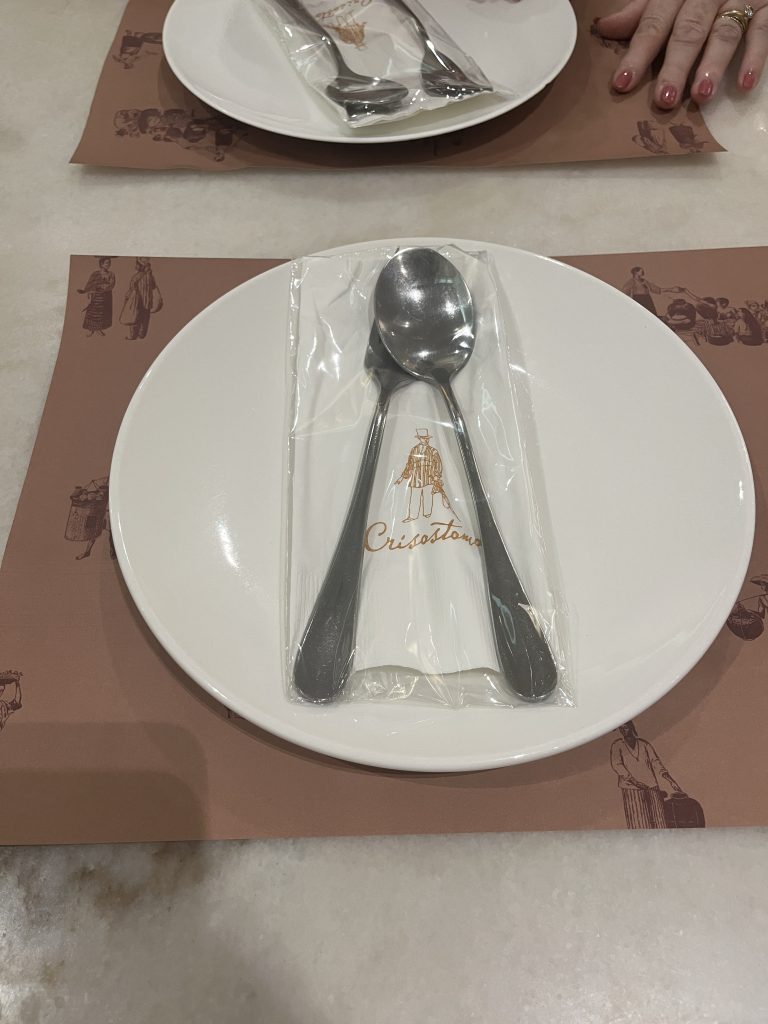 When I served my first mission in South Africa as a punk kid, the custom there was similar. However, there the fork and knife were used. After the food was cut with a knife, it would be used to load (put) food on the fork vs. the US custom of putting the knife down and using the fork to stab the food and then eating from the fork.
In my mind, both of these eating customs are superior to the custom in the US. After returning from South Africa, I continued to use my dining utensils in this manner for several decades before slowly reverting to old habits.
Key Events in the Church in the Philippines:
April 28, 1961: Under the direction of Elder Gordon B. Hinckley of the Quorum of the Twelve Apostles, the Church is legally registered in the Philippines and permission for missionaries to enter the country is granted.
June 5, 1961: The first full-time missionaries arrive in the Philippines.
October 23, 1966: Elder Hinckley dedicates the first LDS chapel in the Philippines, located in Buendia, Makati. We attend church there sometimes.
June 28, 1967: The Philippines Mission is formally organized from the Southern Far East Mission. Paul Wright (a friend) of the Oakland 1st Ward in the Oakland California Stake was one of the first missionaries from the Southern Far East Mission to come to the Philippines.
May 20, 1973: Elder Ezra Taft Benson of the Quorum of the Twelve Apostles organizes the Manila Philippines Stake, the first in the country, with Augusto A. Lim as the stake president (I interviewed Elder Lim a few weeks ago)
October 3, 1983: The Philippines Missionary Training Center in Manila is dedicated.
September 25, 1984: The Manila Philippines Temple is dedicated by President Hinckley.
June 1992: Augusto A. Lim is called and set apart as the first Filipino General Authority.
June 15, 1997: The 50th stake in the Philippines is organized as the Bayambang Philippines Stake.
June 13, 2010: The Cebu City Philippines Temple is dedicated by President Thomas S. Monson.
October 2, 2010: President Monson announces a temple to be constructed in Urdaneta.
April 2, 2017: President Monson announces a temple to be constructed in Alabang.
August 2017: There are more than 746,000 members of the Philippines. Elder Neil L. Andersen organizes the 100th stake in the country as the Mandaluyong Philippines Stake.
October 3, 2023: President Nelson announces four more temples in the Philippines. This will make a total of eight operating, under construction, or announced….I'm confident there are many more to come.
Another interesting thing about the Philippines:
Map of the Philippines and the 23 Missions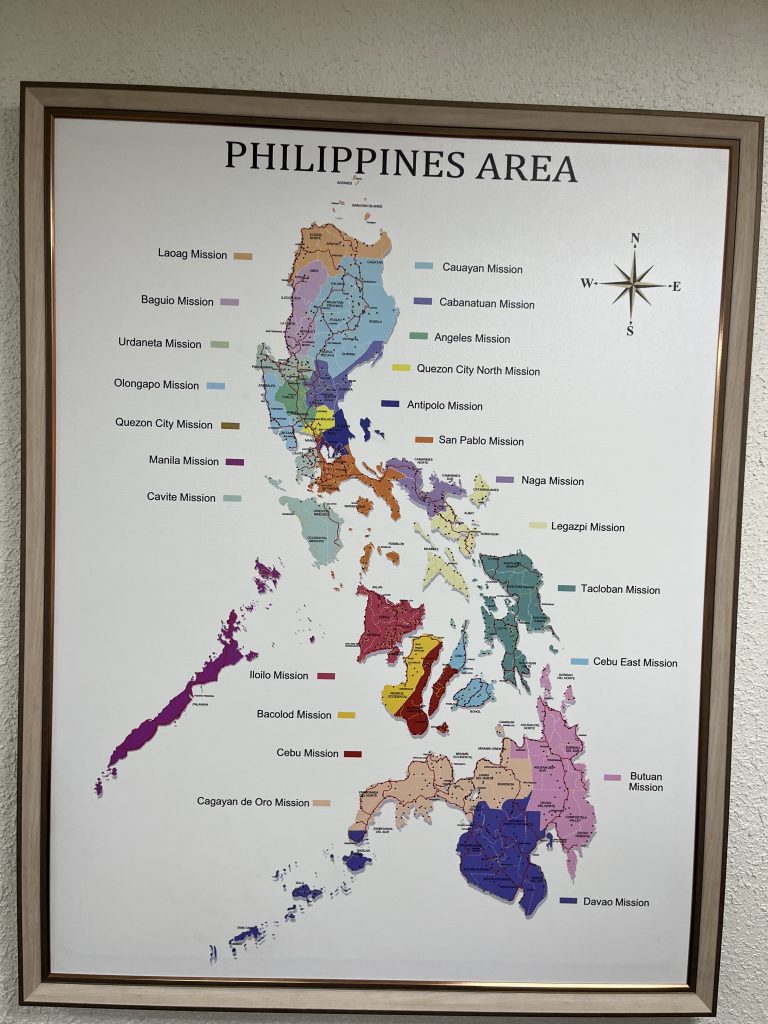 Thought for the Day:
I saw a T-shirt today on a Filipino that was insightful:
"No one ever made a difference by being like everyone else."
Scripture of the Day:
Jacob 12:6: Oh be wise, what can I say more.