We continue interviewing and recording oral histories of mission leaders some of which have been recently released and some that have been released for a while as well as some Filipino saint pioneers. I'm used to using the term Mission President when referring to a leader of a mission. These leaders are no longer referred to as Mission Presidents but as Mission Leaders. The Mission Leader term is more reflective of the partnership of the leaders of a mission which rightly includes both husband and wife. As most of you know, the wife of a mission president is just as much a leader as her husband. Since there are 23 missions in the Philippines, there are 7 to 8 mission leaders released every year after serving for three years. We've interviewed the mission leaders from the US and are now scheduling interviews with mission leaders that are Filipinos and live on one of the many islands in the Philippines.
Some of the things we've learned from these oral history interviews is that there's wisdom in capturing personal insights, stories, and perspectives of these mission leaders because there's so much that can be learned from their street level experiences vs. theoretical whiteboard discussions on what should be and not be done in the mission field.
For example, one of these street level experiences is how a North American mission leader sees the world is entirely different than a Filipino. This doesn't mean this is good or bad, just different. When the Covid lockdowns were at their most restrictive, technology in the form of smart phones (which weren't previous used in the Philippines) were provided to all missionaries. Because of the cultural background in the Philippines, there was some initial hesitancy from some of the Filipino mission leaders to deploy cells phones simply because of their lack of exposure to this type of technology. Of course, it didn't take long for these tools to be embraced.
The things that are universal with all mission leaders is the incredible dedication, faith, and sacrifices these mission leaders live on a daily basis including working ungodly long hours seven days a week and being on call 24/7 for three years. I've gained a new level of respect for these couples.
While mission leaders are not paid like most young proselyting missionaries from the US and other western countries. In the Philippines, the worldwide missionary fund provides some of the support for those missionaries when their families can't afford the cost of a mission. The poverty in some of the islands is hard to describe. Let's just say that it is something hard for us from North America to truly understand what real poverty is. I asked a local bishop how do you determine who qualifies for fast offering assistance. He said if a family has two meals a day, he doesn't see a need to provide additional assistance in most situations. If a family can only provide one meal a day for their family, he is willing to provide assistance. Just think of this….one meal a day for a family and this meal is not a feast and usually just one step a head of starvation.
As for mission leaders, what I've been told by each of the mission leaders we've interviewed is that there isn't a dollar amount in the world that you could pay them to be a mission leader and only a call from the Prophet could get them to do this. It is hard, hard, hard, and an emotionally draining duty – yet like all callings, when serving the Lord, there are silver linings in this service. More on that later.
I continue to be amazed at the various backgrounds of these mission leaders come from which include highly successful entrepreneurs, oral surgeons, farmers, attorney, educators, various medical professions, and the list goes one.
Prepared to Serve – the Ardons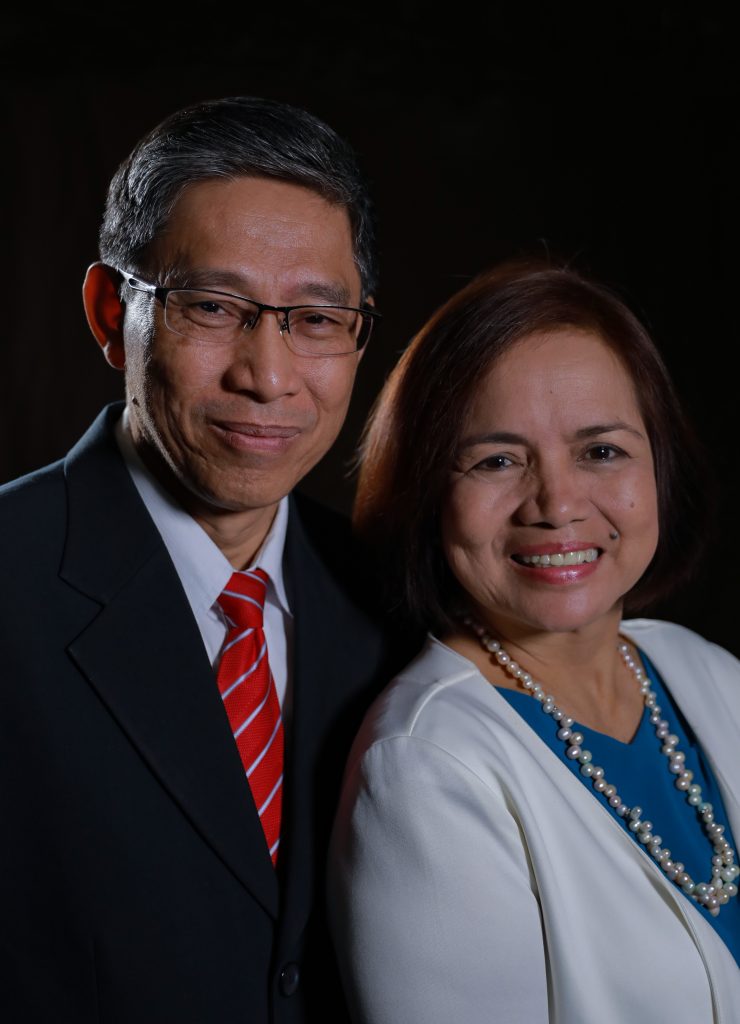 President and Sister Ardon, Mission Leaders
Whom the Lords Calls, He Qualifies
In a recent interview with the Filipino mission leaders, President and Sister Ardon, I'm beginning to learn and understand how the Lord prepares his mission leaders for their calling.
To help gain a better understanding of this comment, a brief background on the Ardon's will help clarify this sentiment. President Ardon joined the church in the 1980's. To pay for his education, he joined the military and trained as a master carpenter during the day as a part of his military service. Since the military would also pay for additional schooling, he decided to get additional training and went on to earn an accounting degree by attending night school. After graduating from college, he then decided to serve a mission – which is not the traditional path to missionary service – several years in the military and have a college degree.
Because he was so well prepared to enter the work force, his father was dead set against him serving a mission and felt that he should capitalize on his education and work opportunities that he had (which were many) vs. serving a mission. Amazingly, he had the courage to do what he knew was right. It takes an enormous amount of courage to go against your parents in the Filipino culture and not do what a parent wants you to do. Nevertheless, President Ardon followed his heart and convictions.
A few months before leaving on his mission, he sat for the Certified Public Accountancy (CPA) exam and received the results three months into his mission. He's the first young proselytizing missionary that I know of that was a CPA while serving a mission. Naturally, during his mission and in his future church assignments, many opportunities were provided that allowed him to use his skills and education to serve in the Church and in his career. He is adamant that his mission experience paved the way for him professionally because after leaving his mission, he was able to secure a highly coveted top finance position in a multinational company where the competition was very keen for the position he had applied for.
Sister Ardon is from one of the first families to join the church in the early 1960's – if you recall, formal missionary work was officially launched in the Philippines in 1961. There were ten kids in her family, and she was only a few years old when her father passed away. Her mother never remarried and raised all ten children on her own. This type of family situation provided her a lot of responsibilities and she grew up quickly. President Henry B. Eyring told her when he issued her the call to be a mission leader that she had been prepared from her youth to serve in this capacity.
They were called to serve in the Davao Mindanao Mission. Davao City (Population 1.7M) which is the third largest city in the Philippines, next to Manila and Quezon City. Davao City is located on the island of Mindanao which is the southernmost group of islands of the Philippines Galapagos and has a large Muslim population.
Only native Filipino missionaries serve on Mindanao in the Philippines. This is because Islam terrorist groups in Mindanao prize North Americans who are often kidnapped and held for ransom, as are other white foreigners that would be considered enemies to Islam by these radicalized militants. The language spoken in Mindanao is Cebuano vs. Tagalog. President Ardon speaks Tagalog and English but not Cebuano. Many of the Filipino missionaries don't speak Cebuano either. One thing that I've come to admire about the Filipino missionaries is that they literally have the gift of tongues and learn to speak multiple languages and dialects quickly and fluently. I have talked to returned missionaries that speak five languages that include – Tagalog, Cebuano, Hiligaynon, Ilacono, and English as well as multiple dialects of the Filipino languages. As mentioned before, there are over 125 language dialects in the Philippines.
Patterns
There is a pattern that continues to reappear in the interviews with these Covid pandemic mission leaders (who served from 2020-2023). During these interviews, I've gained additional insights into how revelation and inspiration often work in the Church. I've noted two common reoccurring themes that emerge repeatedly during these interviews. One is that revelation/inspiration is rarely a straight line but flows line upon line as the Lord requires us to figure things out as much as we can and after we have made enough mistakes and have gone through a learning curve, then the insights and help come.
Also, the Lord truly loves his missionaries and is involved in His work on a daily basis. Mission leader after mission leader shared examples of how the Lord is involved in missionary work and it was never more evident than during the pandemic.
Covid changed the way the gospel was traditionally taught in the Philippines. No big news here because Covid changed a lot of things throughout the world. However, what I found interesting is how the Church managed this process throughout the world.
The pandemic impacted the Philippines differently than most countries because there was a total lockdown mandated in the Philippines by the central government. In the US, we had restrictions, but no one was ever arrested, hauled off, and detained in a Covid detention center for weeks on end simply for leaving their home without the proper written authorizations.
The lockdown in the Philippines was total and almost like Nazi Germany during WWII when you couldn't go anywhere without the proper papers. For example, to travel domestically in the Philippines, everyone needed to have papers that included health clearances from local and regional government entities. Numerous times missionaries were stranded, even when they had their papers in order, because the local authorities had other ideas, couldn't agree on what papers were necessary, or flat out decided to not recognize the papers the missionaries held for some obscure or obtuse reason.
In one instance, when a missionary was attempting to travel home after their mission service had ended the city where they lived refused to accept her papers, even though all the papers were in order. Only by a series of divine interventions was this missionary able to navigate these circumstances and eventually granted permission to enter the city. This was made possible with the help from their mission leaders and local members – nevertheless, it still took over two months to get this issue resolved.
I don't know if you can imagine (I have a hard time with this) what it was like being a mission leader responsible for nearly 200 young men and women some having Covid, some with other medical issues, and some being released but unable to get home. Keep in mind, all foreign missionaries from outside of the country were sent home in March of 2020. Only Filipino missionaries continued to serve in the homeland.
This set of circumstances presented challenges never before encountered by mission leaders who had to deal with new situations on a daily basis. Another situation a mission leader had to deal with was when a missionary fell ill. The source and type of illness could not be diagnosed. The mission medical advisor and the local doctor felt that it was necessary for the missionary to be admitted to a hospital. The necessary arrangements were made and the missionary was transported by ambulance to the hospital. After arriving at the hospital the hospital was unwilling to accept the missionary because they didn't have available beds even though the doctor had confirmed the missionaries admission before leaving for the hospital. This is what turns mission leader's hair gray.
Direct Revelation of the Whisperings of the Spirit
Through all of these challenges, faithful mission leaders continued to seek inspired solutions some of which were legal but unorthodox. The often-repeated refrain from all these mission leaders we interviewed was that solutions came time and time again either by direct revelation or by the small quiet whisper of heavenly inspiration.
Throughout the pandemic, Church leadership seemed to be ahead of the curve on getting everything in place for the successful implementation of the gospel teaching curriculum and methodology that was facilitated by technology. As anyone in tech knows, it is difficult, if not impossible, to smoothly deploy large scale technology role outs successfully. Yet, this technology mass rollout to tens of thousands of missionaries and millions of members worldwide literally overnight without significant notice, tested technical infrastructure, and the resources in place to implement this new and often cutting-edge technology worldwide. But that's literally what happened. The Church never skipped a beat during Covid as far as missionary work and remote meetings were concerned. This sentiment was reaffirmed by every mission leader we've interviewed. One said, it seemed as if someone was looking around corners into the future because of how things transpired and this was a common occurrence as these mission leaders expressed repeatedly because they experienced the Lord's involvement daily.
Other experiences that reinforced this sentiment ranged from the previously mentioned Covid pandemic experiences to the routine assignments of missionaries to a new area or to new companionships during the reoccurring six-week mission transfer cycles. Mission leaders we've interviewed often shared that often there was no logical reason for a specific assignment, other than a distinct impression they had to make a transfer which seemed totally illogical but made the transfer anyway. Then, often months later, missionaries who were initially disappointed or even mad about their transfer, would share specific examples of how a transfer they didn't think was right ended up changing their outlook on their mission and many times their lives. These mission leaders repeatedly shared these types of experiences – so much so that these experiences seemed to lose their uniqueness and impact because they were so frequent that they were so routine.
While it's often difficult to see the hand of the Lord in our own lives, these interviews convinced me that Heavenly Father's involvement in our lives is never more evident than it is in a missionary work because I believe there's so much responsibility put on these mission leaders that Heavenly Father would never abandon them and guides His work more than they or we will ever fully realize or understand.
This concept was again re-enforced when we interviewed President Ardon. He also shared that being a mission leader is like drinking from a fire hose 24/7 because the type of issues that surfaced were so unusual and numerous especially when you are working with 18 to 21-year-old young men and woman that have limited life experience and are learning as they go. He ended our interview with the testimony that they couldn't have completed their mission without Heavenly Father's deep involvement in the missionary program.
More on Being Prepared to Lead
I would like to share a couple of stories from other oral history interviews we have had in the last few months on the Lord preparing his mission leaders.
The Agustine's are a typical set of Filipino mission leaders. Brother Augustine is an electrical engineer by training. He met his wife at work. She was CPA that worked in the finance department of a large multinational company that they both worked at. Although his wife was not a member of the Church when there were married, a few years later she joined the church.
After his wife became a member, he was called as a bishop and was continually called to progressively more responsibilities including nine years as a stake president followed by serving as a counselor in a mission presidency followed by a seven-year stint as an Area Seventy. The area over which he had responsibilities as an Area Seventy was not limited to just Luzon where he lived but included numerous islands in the Philippines far from Manila.
He shared that as an Area Seventy he would leave in the predawn hours on a Saturday morning and return home close to midnight on Sunday for the entire seven years he served as an Area Seventy. All of this was going on as his responsibilities at work continued to increase as he was promoted to greater management responsibilities in his job. He was on the fast track for bigger and better things within his company. All of this ended abruptly when they received an unexpected call to serve as mission leaders in the Cebu mission.
Some may have wanted to think about giving up the compensation and status he held at his firm and the many more promotions (since he was on the fast track) he would receive if he continued with his company. He shared a telling comment with me when they were called as mission leaders and told me, "My wife and I agreed a long time ago that we would always do what the Lord asks of us putting Him first in our lives."
The decision to accept this call when it came was a forgone conclusion that didn't require any thought or time to consider what they would do because that decision was made years ago. This call required him to take early retirement, forgo substantial financial incentives, and to close the door on positions of leadership in his company that he had worked decades to achieve. To say that these types of experiences are humbling for us is an understatement. I feel almost embarrassed at times to be sitting across the table from these Filipino saints.
We Go Where No Senior Couple Has Been Before
We often get a chance to work with local leaders in training situations. The picture below is a Coordinating Council meeting for the Angeles area which covers several provinces about three hours north of Quezon City. This was a Saturday morning event where we spent time with the area leaders and then with the Church History Specialists.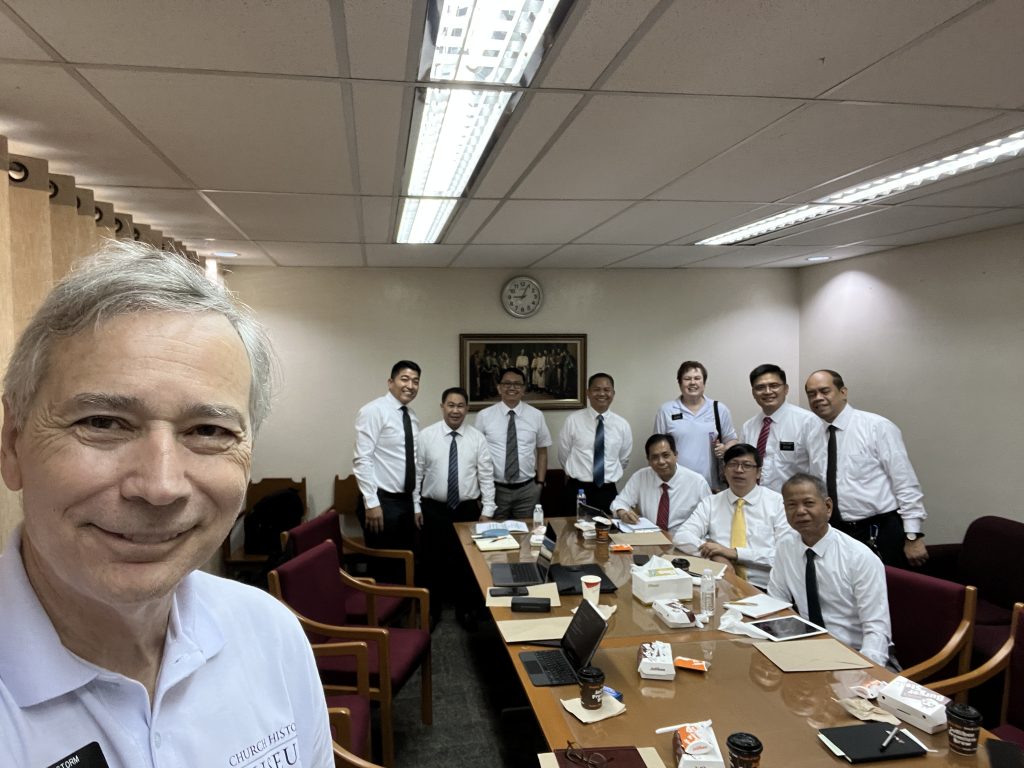 Coordinating Council Meeting with district and stake presidents, a mission leader, and an Area Seventy.
Rise and Rebuild
On a recent trip, we heard about a former missionary that served in the Philippines 30+ years ago, returned as a mission leader, and then after completing his tenure as a mission leader, returned to the Philippines and established a foundation called Rise and Rebuilt. This foundation has five locations throughout the Philippines.
After a meeting we had with the Coordinating Councils in Central Luzon, we dropped by the Tarlac City Rise and Rebuild location.
The Rise and Rebuild Foundation is an effort to aid the poor and malnourished children in the Philippines. The initial program began with the building of communal bathrooms after the devastating Typhoon Hian in November of 2013. The Rise and Rebuild Foundation continues to build bathrooms after natural disasters but also focuses on the nutrition of malnourished children, from birth through secondary school. They also drill portable water wells, build nutrition centers from the bricks made at their own brick making facilities, and operate our garden centers. The establishment of large gardens provide free vegetables for the nutrition centers as well as needed employment for people from local villages.
This is just an effort of one former missionary in the Philippines that continues to bless the lives of the Filipino people that he learned to love while serving in the country.
We had a chance to talk to the director of this specific location and she was so excited to share how many kids they provide fresh vegetables for from this farm on a weekly basis – over a hundred schools in this area alone.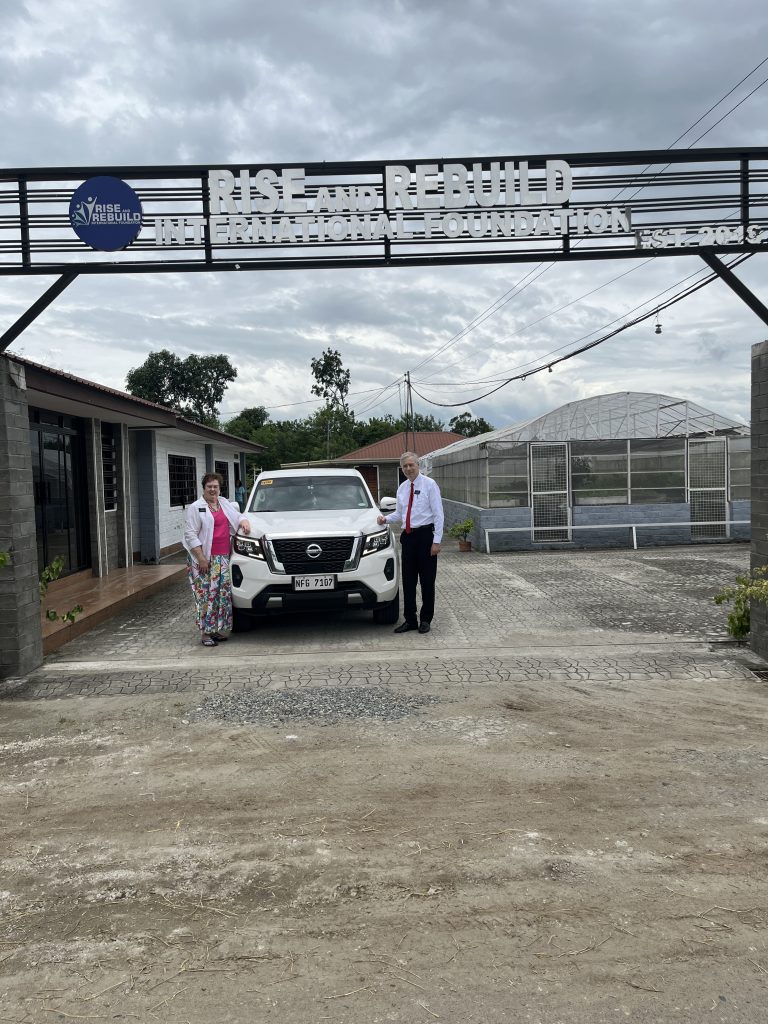 The entry to the Rise & Rebuilt farm outside of Tarlac City, Philippines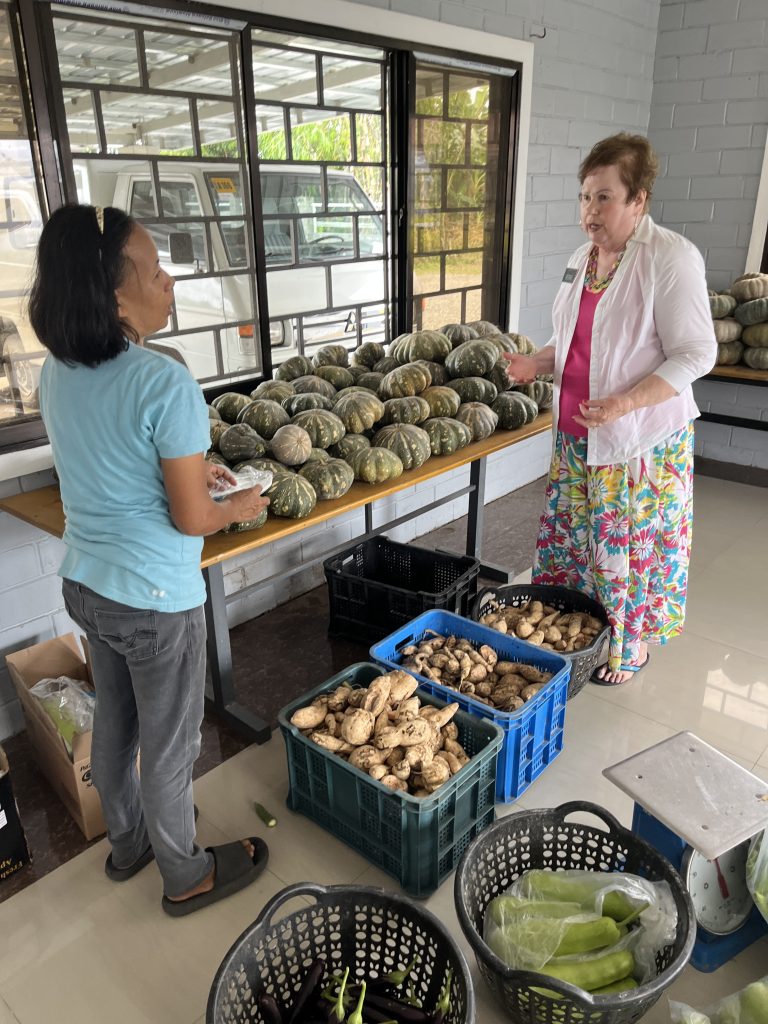 One of the directors of the farm explaining where their food goes in the community.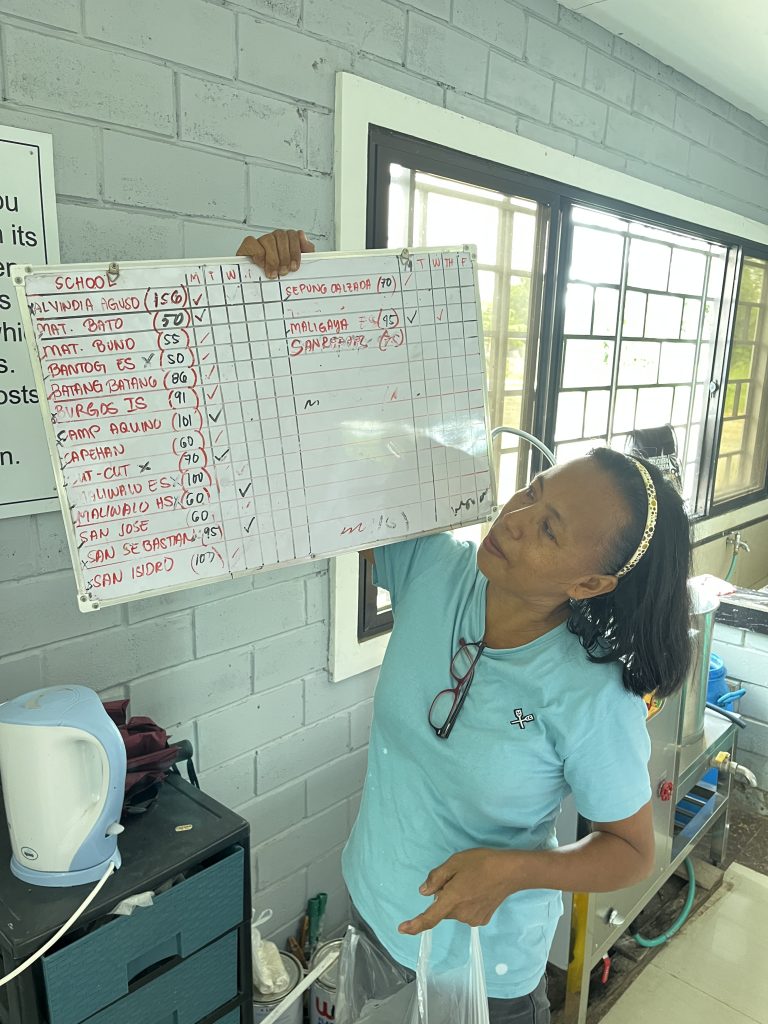 The director showing the schools and the number of children that each school has to be feed each day.
What we continue to learn about the Philippines….
Reflecting back on the first few days we were in the country, I couldn't figure out why there wasn't hot water for the kitchen sink only to learn that there is generally no hot water in homes or apartments in the Philippines. For washing dishes, we have a hot water heater that heats a gallon of water to a boil in about a minute.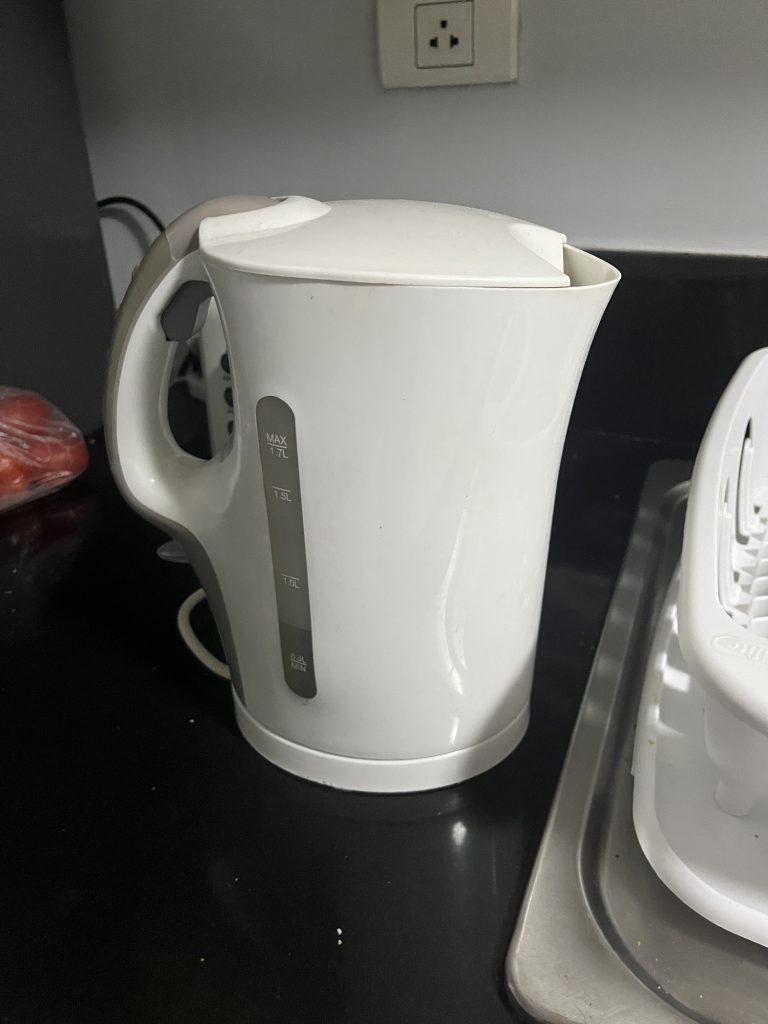 This is the hot water heating device we (Marcia) use to have hot water for washing dishes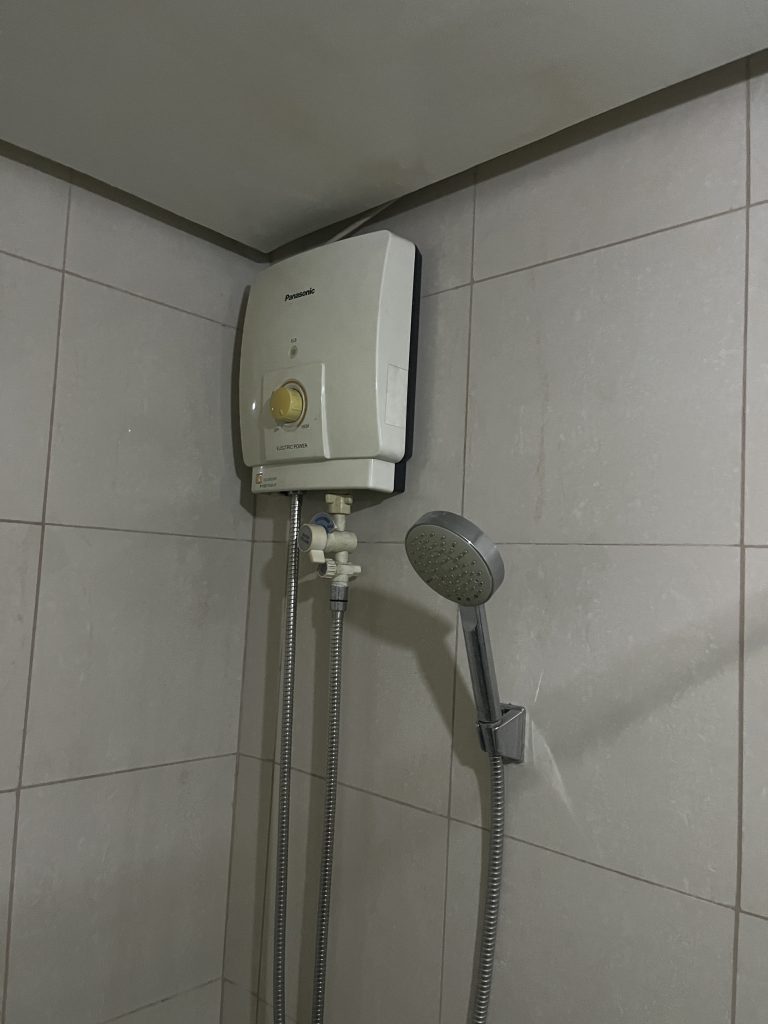 Insta-Hot Water System
For showers, there is this neat system, which actually makes a lot of sense….instant hot water from an on demand water heater and no water heater that has to maintain hot water 50 gallons at a time.
Hot, Rainy, and Humid late in the Evening
As I write this section of this blog post, I'm sitting at an outdoor plaza not too far from our apartment. It is about 8:45 pm, The rain stopped a while ago and the temperature is a moderate 91 degrees (the weather app says….91 degrees, feels like 101 degrees) and as expected the humidity is sky high. Needless to say, Marcia is not sitting next to me.
A few minutes ago a Christmas song was played over the sound system in the mall plaza. Since the first week in September, Christmas hymns have been sung in Sacrament Meeting on Sundays. I haven't adjusted to the specific cultural norm yet. Normally, I make it a point not to listen to Christmas music at home until the third week in December in order to keep the music special. For the most part that worked for me. From what we hear…..you haven't experienced Christmas unless you been in the Philippines during the Christmas holiday season….I just don't know if that statement is meant to reference the Christmas week or the four months before December 25th.
What's this? It' raining again….I mean pouring rain complete with the dramatic thunder and lightning show. I better head back to the apartment before Marcia locks the door and secures the apartment for the evening with the deadbolts.
What we continue to learn about the Philippines…..
I have shared my sentiments before about our medical experiences here in the Philippines. We had yet another positive experience. Marcia went to the dermatologist the other day. During the consultation, the doctor (a Filipino woman about 45 years old that served her residency at the Cleveland Clinic – a top notched US hospital) Marcia was explaining that her US dermatologist always used liquid nitrogen to freeze her skin tags and several warts. The doctor calmly said, "Yes this is the common treatment in the US, but here in the Philippines we use electrosurgery which involves using a needle like probe to burn off the skin growth such as warts. This is more effective but takes more time because it involves reserving a surgical room. Also, you generally have to return for multiple treatments "
A discussion ensued that either liquid nitrogen or electrosurgery both work (I could tell she was being careful on how she explained the differences between these treatments) but the former is less effective because it does not kills the virus that causes warts. She used the analogy of a bush with deep roots. She said that if you cut the bush and don't kill or remove the roots, in a few months the bush's roots begins to grow back. Same with a wart. You must eradicate the wart's roots. The nitrogen application doesn't do this but is quicker and easy to administer. She wanted us to understand that both were okay but she recommends the electrosurgery option.
Also, she wanted Marcia to try some supplements first that would activate the immune system that might kill or stop the small warts from growing any larger. If this didn't work, she would do the electrosurgery. In two different instances, when seeing a Filipino physician, they have recommended different treatment options than our US doctors. In both cases, the treatments differed and would solve the problem but only the more expensive option was recommended in the US. Treatment here in these instances was at a fraction of the cost. I'm just saying.
Thought for the day: Nothing is more soothing than sitting in a small chapel in the Philippines while the sacrament is passed during a rain storm as the rain falls on the roof with brilliant flashes of lightning and the accompanying thunder clamps in the distance. Sweet memories in the making.
Scripture thought: Romans 1:16: For I am not ashamed of the gospel, because it is the power of God that brings salvation to everyone who believes….