This is the first entry in our blog. This blog post is to let all of our friends and family know that instead of sending emails to everyone to update and share our mission experiences, I plan on composing blog posts several times a month about what we are up to in the Philippines and where we have visited in the islands. For those of you that don't know, the Philippines has several thousand islands and different regions that compose the islands.
Philippines by Regions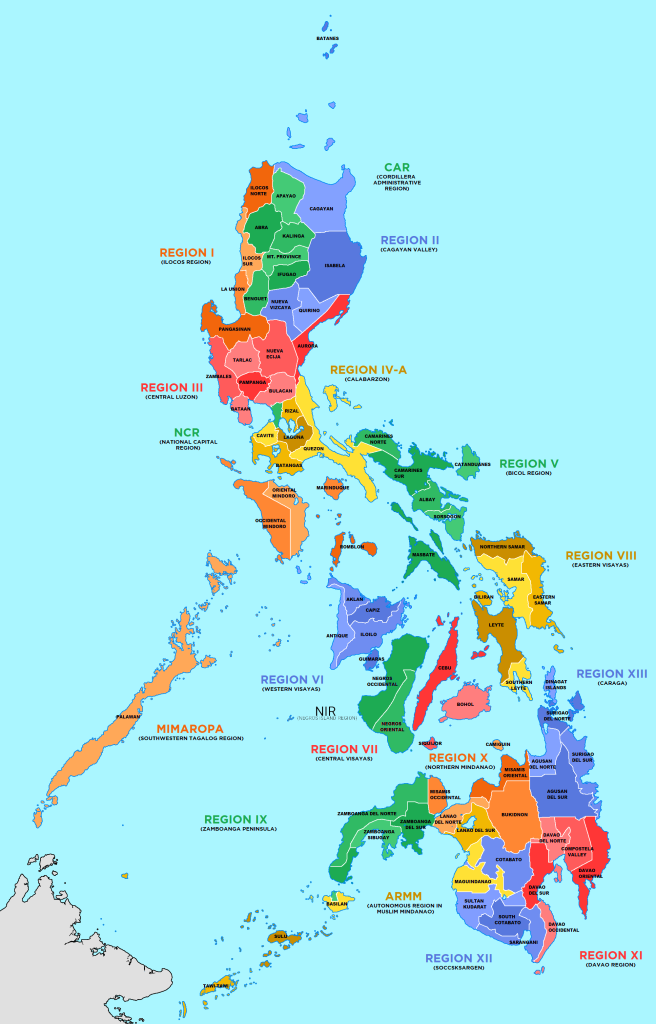 The Philippines consists of approximately 7,641 islands broadly categorized under three main geographical divisions from north to south: Luzon, Visayas, and Mindanao, and twelve regions.
An archipelago is an island group or island chain and is a chain, cluster, or collection of islands, and sometimes an island in a sea that contains small or large groups of scattered islands.
Examples of an archipelago are Indonesia, the Galápagos Islands, the Bahamas, the Hawaiian Islands, and the Canary Islands. The Philippines is one of these archipelagos. That's enough of our geography lesson for this post. I'll share more about the geography in future posts as well as some of the things we learn about the history, the culture of the church in this part of the world, as well as details on what we are doing on a day-to-day basis.
This is how I see this blog working.
A few times a month I'll post a blog entry. I have not publicized the blog and my plans are to include only family and others that may wish to be included in being notified of blog posts some of which may even be interesting. I'll let you decide if you want to be included in our email blog post notifications. If you would like to stop receiving the notifications e-mails you can simply click the "UNSUBSCRIBE" button at the bottom of the e-mail that you received to be removed from the mailing list. You can also email me at marvinlstorm@gmail.com and ask to be removed. The last thing I want to do is bore you with another email about something that you have little interest in.
If you wouldn't like to receive email notices on future posts but would like to occasionally check out the blog, the web address is www.marvinlstorm.com. Click on the blog link or type in the https://www.marvinlstorm.com web address into a browser address bar. You can then read past blog posts at your leisure.
If you have any questions, please do not hesitate in giving me a call at 925-817-7020 (this number is good until we depart the good ol' USA) or drop me an email at marvinlstorm@gmail.com. We plan on having frequent Facebook Messenger video calls with family. We can also video chat at no cost with others who are friends with us on Facebook. If we are not yet Facebook friends, send me a Facebook friend invitation and I will accept, then we can schedule a Facebook Messenger video call. Keep in mind that the time difference in standard time (not daily savings time) is fifteen hours…..this means if it is 5:00 PM Sunday afternoon Pacific time, it's 8:00 AM Monday morning in the Philippines.
My next post should be from the Philippines.