On Our Way
During the time we waited to leave for the Philippines, our flights were changed three different times. After we checked in at LAX on Philippines Airlines, I noted that our boarding passes had Marcia and I seated in different rows and in center seats even though I paid for aisle seats.
When we got to the gate, I approached the customer service agent and asked if it was possible to be seated together. He said all seats were taken. I thanked him and sat down in the waiting area.
As we were boarding and arrived at the gate, I scanned my boarding pass only to have it beep with a red-light flashing notification to see customer service immediately. I thought to myself, "What now?"
As I approached the customer service desk, the same agent that I had talked to earlier asked for our boarding passes. He took them and reprinted them without saying a word handing new boarding passes back to me. As I heard the last call for boarding, I walked quickly to the boarding area not paying much attention to our new boarding passes. After walking down the jetway and as we entered the aircraft door, we were directed to the left vs. the right…. .left is business and first class, right is coach. I don't know why we were upgraded, but the upgrade made the nearly 20-hour flight from LAX to Manila much more enjoyable vs. sitting in coach in middle seats.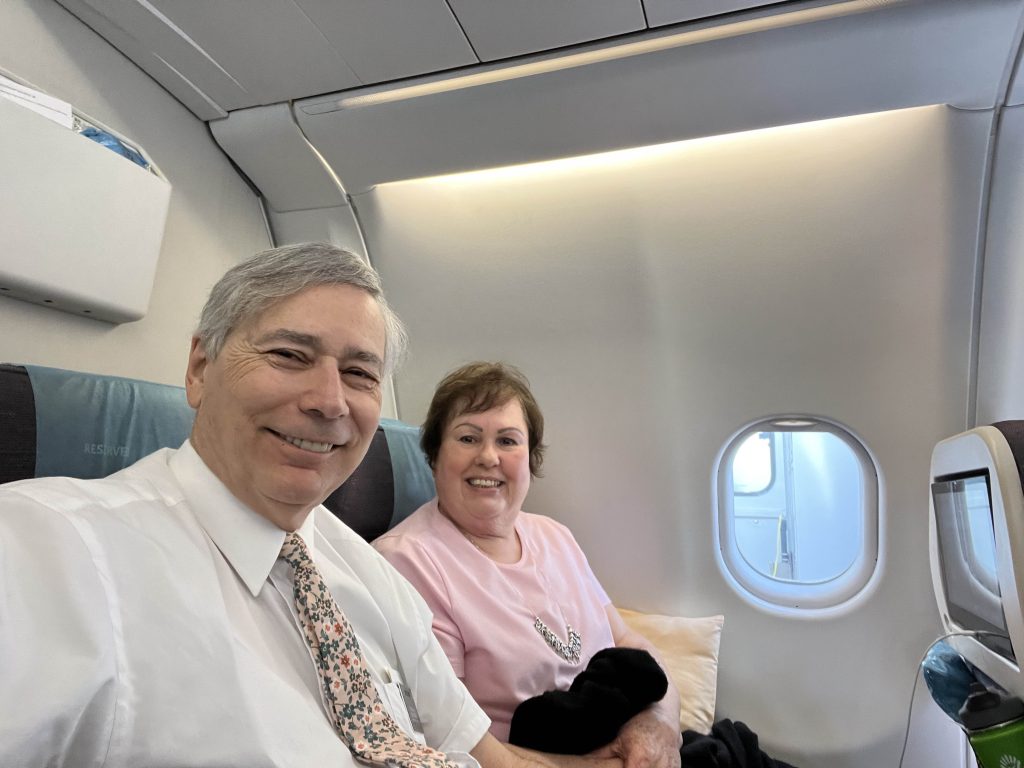 Us seated in our upgrade seats.
Holy Week
The Philippines is one of the only Asian nations that is primarily a Christian nation because it was colonized by Spain centuries ago and shortly thereafter the Catholic priest arrived converting large segments of the population to Catholicism.
Holy Week in the Philippines is the most celebrated and most sacred time of the year for the Filipino people. We arrived early on a Thursday morning (2:30 AM). We were told that the entire country completely closes down from Thursday to the following Tuesday. Another senior couple were assigned as our new arrival mentors. They were so concerned that we would be unable to purchase food during the Holy Week that they stocked our apartment with food. We were glad they did. Also, we appreciated the down time to adjust to a new time zone.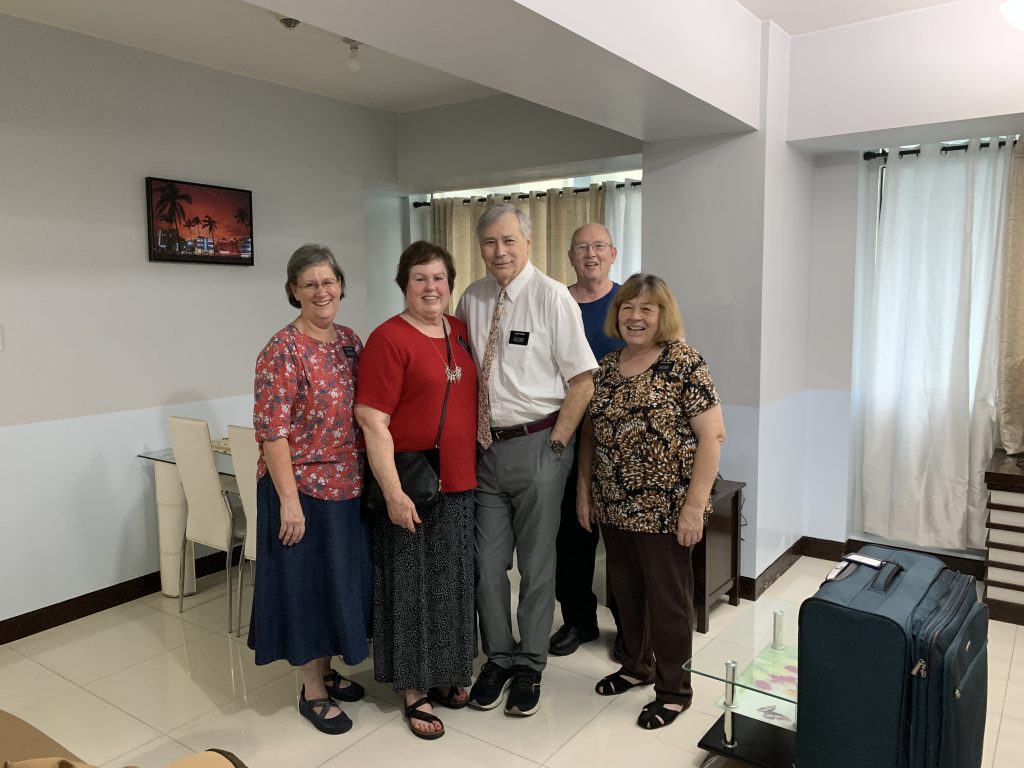 Our mentor couple (on the right) along with another sister welcoming us and showing us our apartment.
After recovering from the time zone change, we decided to see a few of the local sites in metro Manila. We went to the Ayala Museum which is a museum dedicated to sharing the history of the Philippines, its people, culture, and artifacts. One of the most fascinating things we saw were the thousands of pieces of gold jewelry, braided gold breast plates, and pottery like dishes all made of gold. It seemed like there was more gold here than in Fort Knox.
There was also a diorama tracing the history of the Philippines from 900 to 2021. The most striking thing about this timeline is the number of times the Philippines have been a conquered nation.
We also visited the American Cemetery. Below is a link to a short video taken during our visit to this cemetery. The American Cemetery and Memorial in the Philippines honors the American and allied servicemen who died fighting the Japanese in World War II. The Cemetery offers repose to soldiers who died in the Pacific theater, which included the Philippines, New Guinea, and the Pacific islands. Like all national cemeteries in the US and Europe, it's humbling to see the thousands who gave their all for our countries and for the freedoms we enjoy today.
The cemetery is also the place where then Apostle Gordon B. Hinckley dedicated the Philippines for missionary work in August of 1961.
Our Work
As we are getting settled, we are starting to seek out Filipino saint pioneers that have significant stories, events, or historic artifacts, picture, and documents to share about the history of the gospel in the Philippines.
This week we were introduced to a Filipino man who served his mission forty years on a small island about a 90-minute plane flight from Manila. Here is a brief recap of his story, which we hope to record an oral history with him in the near future.
He and his companion were the first missionary companionship on this small islands. The reception was not great since most of the population in the Philippines is Catholic with some Protestant congregations here and there.
He and his companion were walking down the street carrying a Book of Mormon. As a woman was passing them walking in the opposite direction, she noticed the Book of Mormon and asked them what was the book they were carrying. They told her what it was and asked her why she wanted to know.
She told them that she thought she recognized the book because her pastor in her church teaches out of that book. After months of having the message of the restoration of Christ's gospel in these latter-days, they were invited to teach the pastor's congregation and most of these people were baptized. When he left this area and returned home from his mission he'd never had a chance to return and visit this area.
A few weeks ago a business trip took him to the area that he had served in forty years ago. When he walked into the church building and introduced himself, dozens of people surrounded and hugged him. When the church services started, they had him sit on the stand with the Bishop and he was asked to speak in Sacrament meeting.
From that small branch of the Church established so long ago has grown into two stakes with dozens of congregations and many thousands of members.
We hope to find other stories from Filipino pioneer saints in the future. What's inspiring and motivating for us is if we hadn't met the man in a chance meeting (sometimes things are simply don't happen by chance), this story may have been lost for future generations of Filipino saints forever. As I've said before, history not captured is as if it never happened.
Things We've Learned
A couple of things we've learned in a few short weeks.
Note: Every blog post I will share in the next month or two will have one or two items about what we've learned, found interesting, or surprising about the Philippines' culture.
In this post, these are few things we've learned since being in the country.
I really didn't realize the scope of the church's missionary program and what it takes to support different cultures and customs. I was aware there are eleven mission training centers, like the one we attended in Provo (with Provo being the largest), but what I didn't realize is how mission training centers in countries like the Philippines, South America, and Africa need to be equipped to handling things that I hadn't thought about being from a first world country.
For example, roughly 90%+ of missionaries in the mission training center in the Philippines are from various countries in Asia, many of these young men are women from rural areas. In talking with four other senior couples, who are retired dentist, they shared with us that nearly 100% of missionaries from less developed countries have never had any dental work done.
Some of these young people have lost most of their teeth or have other major dental issues. Before these young missionaries leave the mission training center, they have all of their dental work done by these noble dentists who work 10-12 hours a day six days a week to finish the dental work for these young men and woman before they leave for their fields of labor which could be in an another Asian country, the Pacific Islands, Africa, or the US, Australia, or Canada, among other places.
As soon as these dentists finish the dental work for one group of missionaries who leave the missionary training center with all their dental work done, a new group of several hundred young missionaries arrive and the process starts all over again.
Until next time with love…..Marv & Marcia